Best Hair Transplant in Delhi - Cost & Techniques
Are you experiencing normal hair loss or is it alarmingly excessive?
We have heard that it's pretty normal to lose up to 100 strands per day. Hair fall is a normal phase of the hair growth cycle, while hair loss indicates that something is impairing the cycle itself. Hair loss is its more advanced stage where you are not just shedding hair but also losing its density. 
See a specialist immediately if you notice patches of baldness so that you can take advantage of the hair transplantation.
What is a Hair Transplant?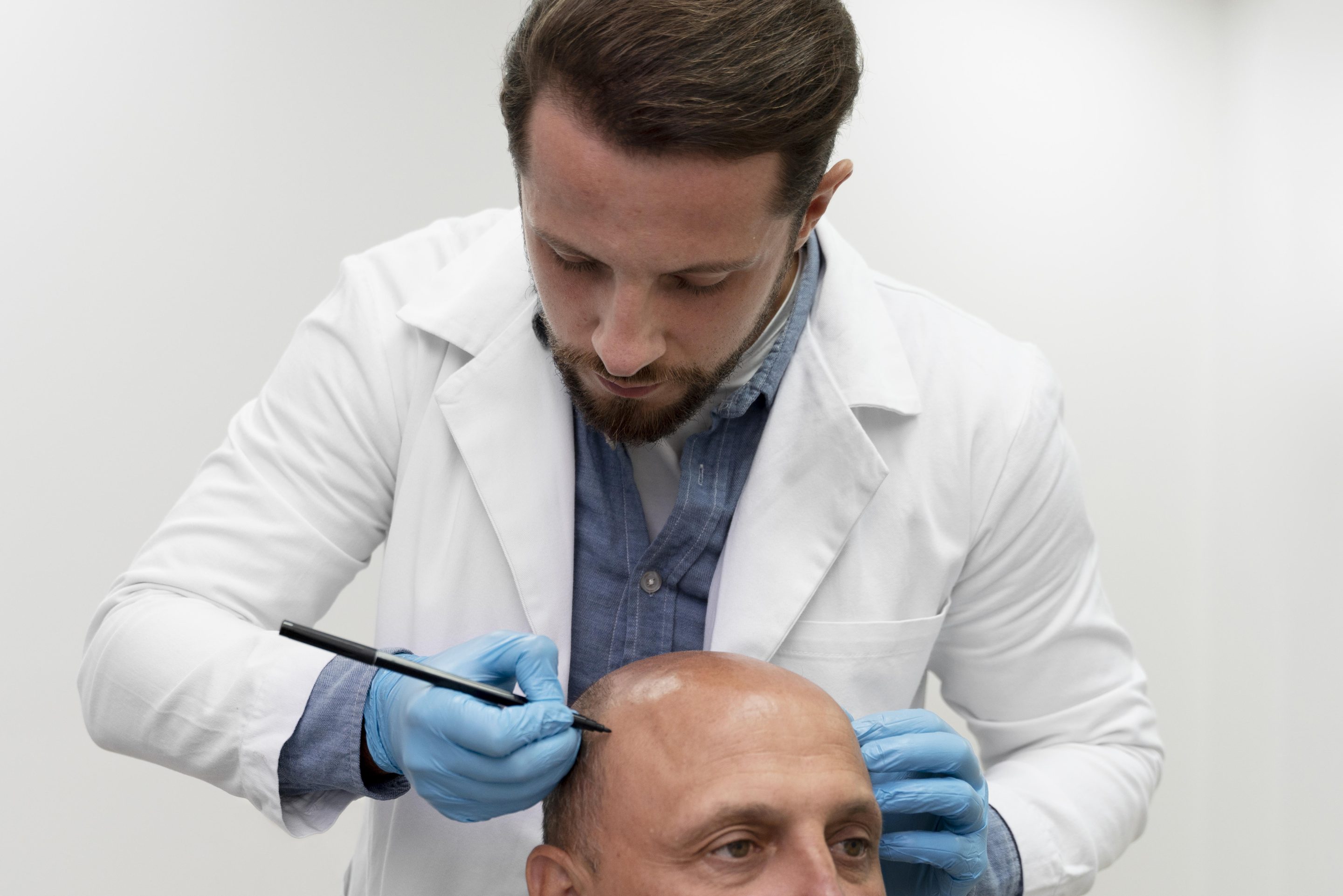 A hair transplant is a promising option for those concerned about hair loss or baldness. The surgery involves extracting hair follicles from the donor area where it is thicker and is resistant to the action of DHT hormone to implant to the thinning/ bald areas. It's important to note that you may need multiple Best Hair transplant sessions, which can be expensive. However, the outcomes of the procedure are typically long-lasting.
Who is suitable for a Hair transplant?
Anyone with a balding scalp and a good donor area can undergo hair transplant surgery. Ideally, patients should be older than 25 years old. 
However, a person must have a healthy donor area (back of the scalp) from where hair follicle grafts are extracted. Additional factors like hair color and texture also influence the hair transplant results.
How Hair transplant is done?
At Chandra Clinic, we use Choi implanters to implant hair roots, allowing for precise angle, direction, and density ensuring a natural-looking result.
A Hair transplants involve extracting hair follicles from a specific area of the scalp before implanting them into areas of the scalp where there is balding or thinning. The implanted hair follicles then grow in this new location, helping boost hair density and restore a natural hairline.
Our hair transplant surgeon in Delhi, Dr. Urvashi Chandra, is a Diplomate of the American Board of Hair Restoration Surgeons with over ten years of experience. In addition to performing minimally invasive FUE techniques and BIO-IPT hair transplant in Delhi, she also performs advanced PRP treatments and tailors her treatments to each client's needs.
Best Hair Transplant Techniques in Delhi
BIO-IPT Hair Transplant is an improved version of Follicular Unit Extraction(FUE) hair transplant that results in a 100% natural-looking hairline. The technique involves ultrafine COLE punches imported directly from the USA. A patient experiences zero scarring in the donor area while no marks are left post-surgery. Our hair transplant surgeon in Delhi, Dr. Urvashi Chandra, aesthetically performs follicle implantation using special implanter pens that make hair grow out in the same angle and direction as the natural hair of that area. 
Follicular Unit Extraction (FUE) is a less invasive method for hair transplant in Delhi. At Chandra Clinic, we provide the Unshaven FUE technique, offering a scarless and painless experience. It involves extracting the hair follicular grafts from the back of the head and implanting them onto the bald area using ultra-fine sharp manual punches and implanter pens. After the FUE Hair Transplant procedure, the donor area heals by itself.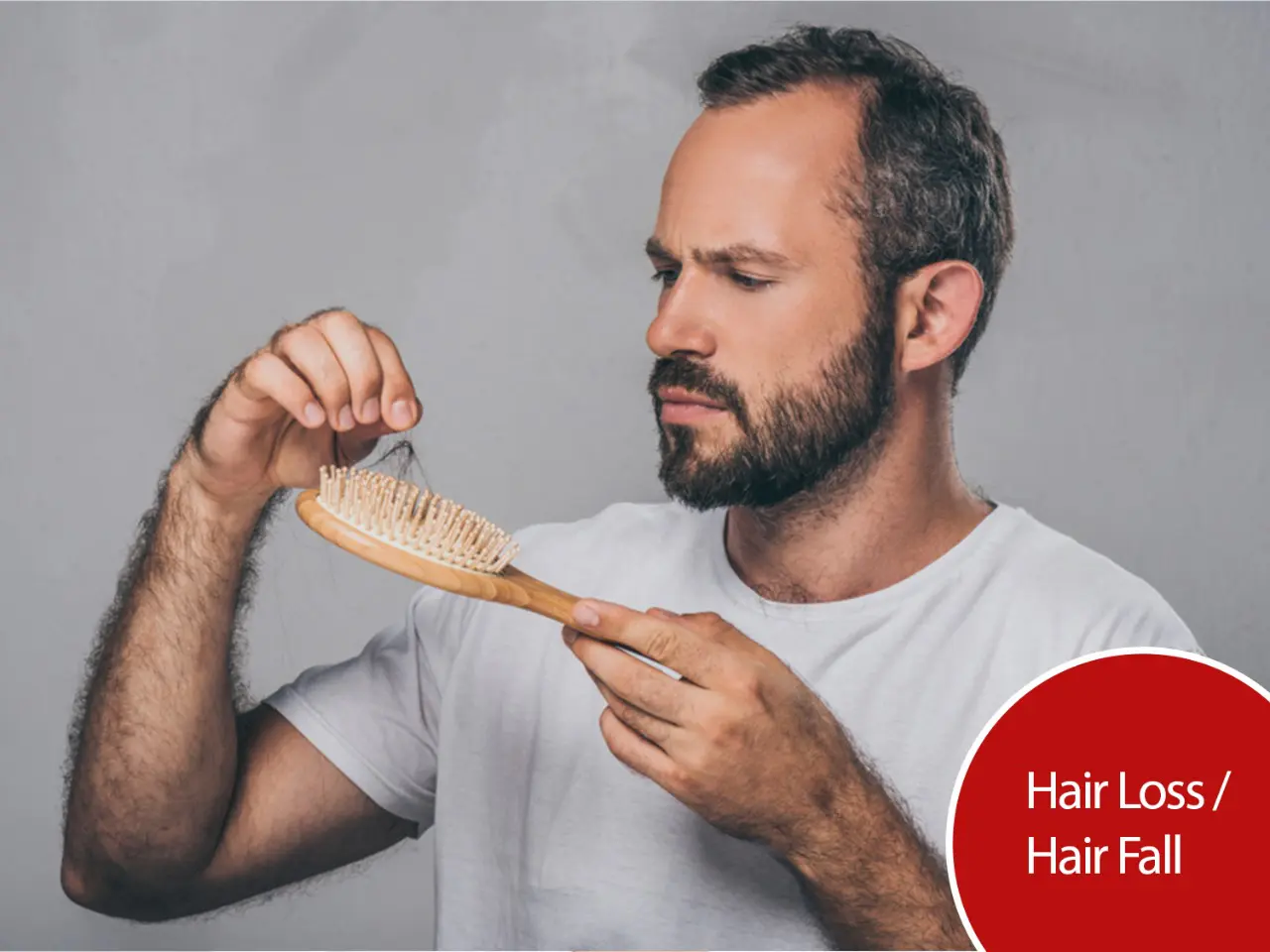 Growth Factor Concentrate (GFC) is an innovative non-invasive technique for restoring excessive hair loss. A blood sample is taken for centrifuging the platelets that are further processed to extract 'growth factors'. Also, known as 'Advanced PRP', the technique triggers natural growth into the thinning area of the scalp through prepared injections. 
Follicular Unit Transplantation (FUT) is one of the older hair transplant methods that involves stitches. The procedure includes extracting hair follicles from a thin strip of skin taken from the donor area at the back of the scalp and transplanting them into the bald area. Careful stitching of the donor area is performed to minimize the appearance of scars.
Cost of Hair Transplant in Delhi
Let's begin with the concern that most patients have i.e. Cost of hair transplants! Firstly, the Hair Transplant  cost in Delhi varies depending on the technique, graft requirements, intensity of hair loss, doctor's fee, safety standards, and so on. Many people fall for cheap procedure gimmicks offered by salons, or untrained professionals and end up getting trapped by serious outcomes. Please note services taken from fraudulent hair clinics can be life-threatening. 
Hence, when choosing hair transplant clinics in Delhi, one should prioritize finding experienced and certified best hair transplant surgeons  over cost.
Why Choose Us?
Since our inception, we have been using best-in-class instruments i.e., the original Cole punches imported directly from Cole Instruments, USA, the manufacturer of the finest hair transplant instruments in the world. 
Our hair transplant surgeon, Dr. Urvashi Chandra carries out every hair transplant procedure scientifically and artistically. Our highly skilled surgeon will personally perform your procedure and our team of assistants will provide support. Her dedication to offering personalized treatment has earned us a stellar reputation as the best hair transplant clinic in Delhi. 
Before / After Hair Transplant  Surgery in Delhi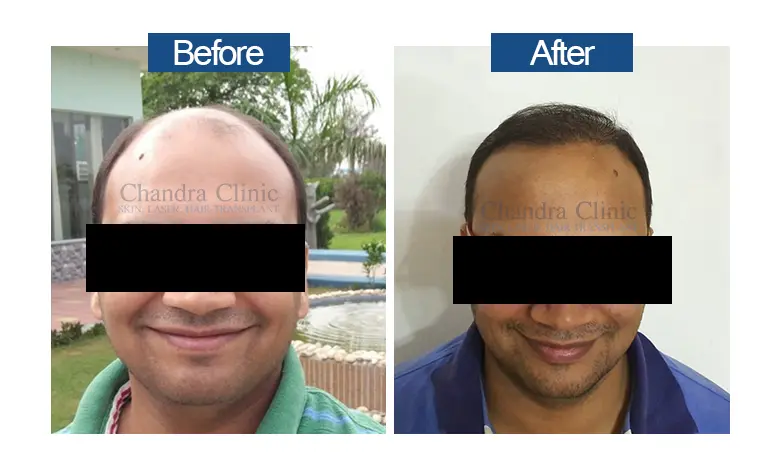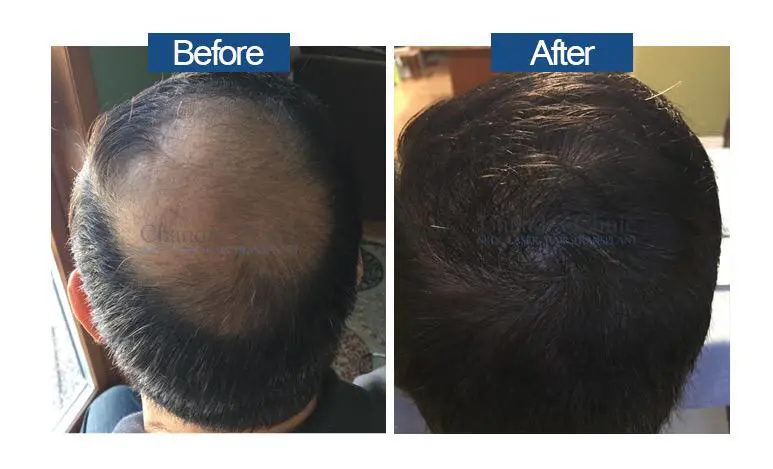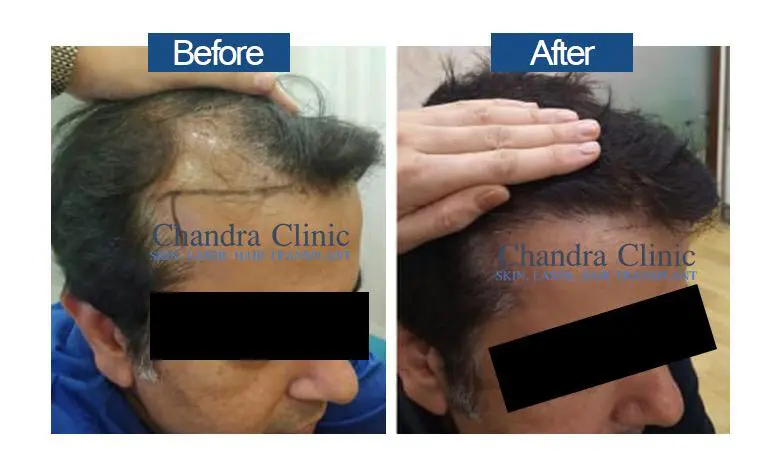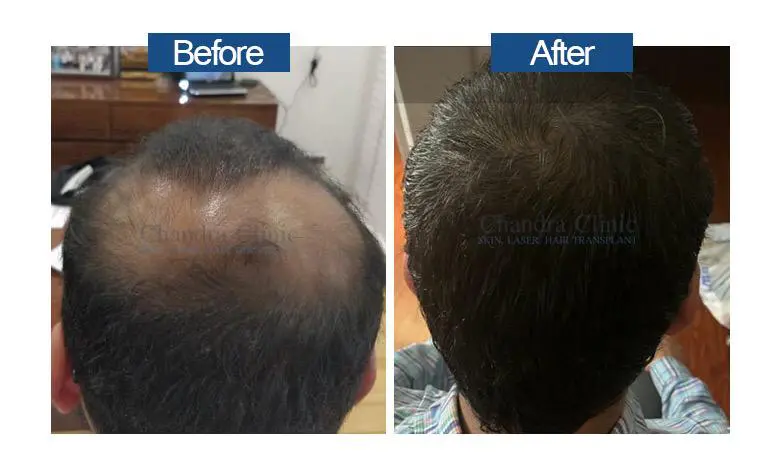 FAQs – Frequently Asked Questions
How is the procedure done?
Ans. We extract roots from the back area of your scalp and insert them in the area of hair loss. The grafts start producing hair in the implanted region. The procedure is done under local anesthesia so you will be conscious.
How much time does the procedure take?
Ans. It typically takes a day or sometimes two depending upon the area of hair loss. However, one might go to some sessions, if numerous grafts are required for implantation. 
How painful Hair transplant is?
Ans. At Chandra Clinic, with the use of a minimally invasive technique, the procedure is almost painless. The post-procedure period is comfortable with the majority of our patients not needing any painkillers.
When will I be able to join work?
Ans. Next day. That's right. With our BIO-IPT procedure, you could join work the next day without any bandages on your head. Little dots of implanted hair scabs fall off in 10 days.
What care has to be taken after a hair transplant?
Ans. You need to follow the hair transplant surgeon's instructions post-treatment. We'll be giving you a saline spray bottle and you'll have to spray it on the implanted area every hour for 2 days. New roots need hydration which is why the saline spray is important. You'll have to avoid gymming for a week. After 10 days of transplant, we recommend you start using minoxidil again.
How much does it cost for a hair transplant in Delhi?
Ans. At our Chandra clinic, the best hair transplant clinic in Delhi the cost starts from Rs 75,000 for 2000 hair. (Updated January 2020)
After the transplant will I still have to use medicines to save my hair?
Ans. The purpose of Hair Transplant is to replace what you've lost, not save what you have. So you'd have to continue minoxidil to save existing hair.
How much time does it take for all the hair to grow?
Ans. It generally takes around a year for full results after all the sessions. You might see shedding in the first few months but that's part of the procedure. Once passed, the hair will grow naturally.
Is there any age bar for it?
Ans. No, there's no age bar. However, we do recommend that if you're younger than 20, we must wait and treat just with medicines that will help us understand your speed of hair loss. Male baldness progresses faster if it occurs at a young age. We need to plan our  Hair transplant accordingly.
When is the right time for a transplant?
Ans. A Hair transplant is an aesthetic procedure. Anytime you feel that you are not looking as you expected and want to improve your appearance, you can opt for it. If it's affecting your confidence level, then the best time is now. However, you must take medication to prevent any additional hair loss.