Wish to get rid of the old tattoo?
Tattoos are often seen as a means of expressing oneself by adorning the skin with a message or image of one's liking. However, you may have had a change of heart and now desire to remove your tattoo. 
At Chandra Clinic, our professionals offer a straightforward and effortless laser tattoo removal procedure.
What is Tattoo Removal Treatment?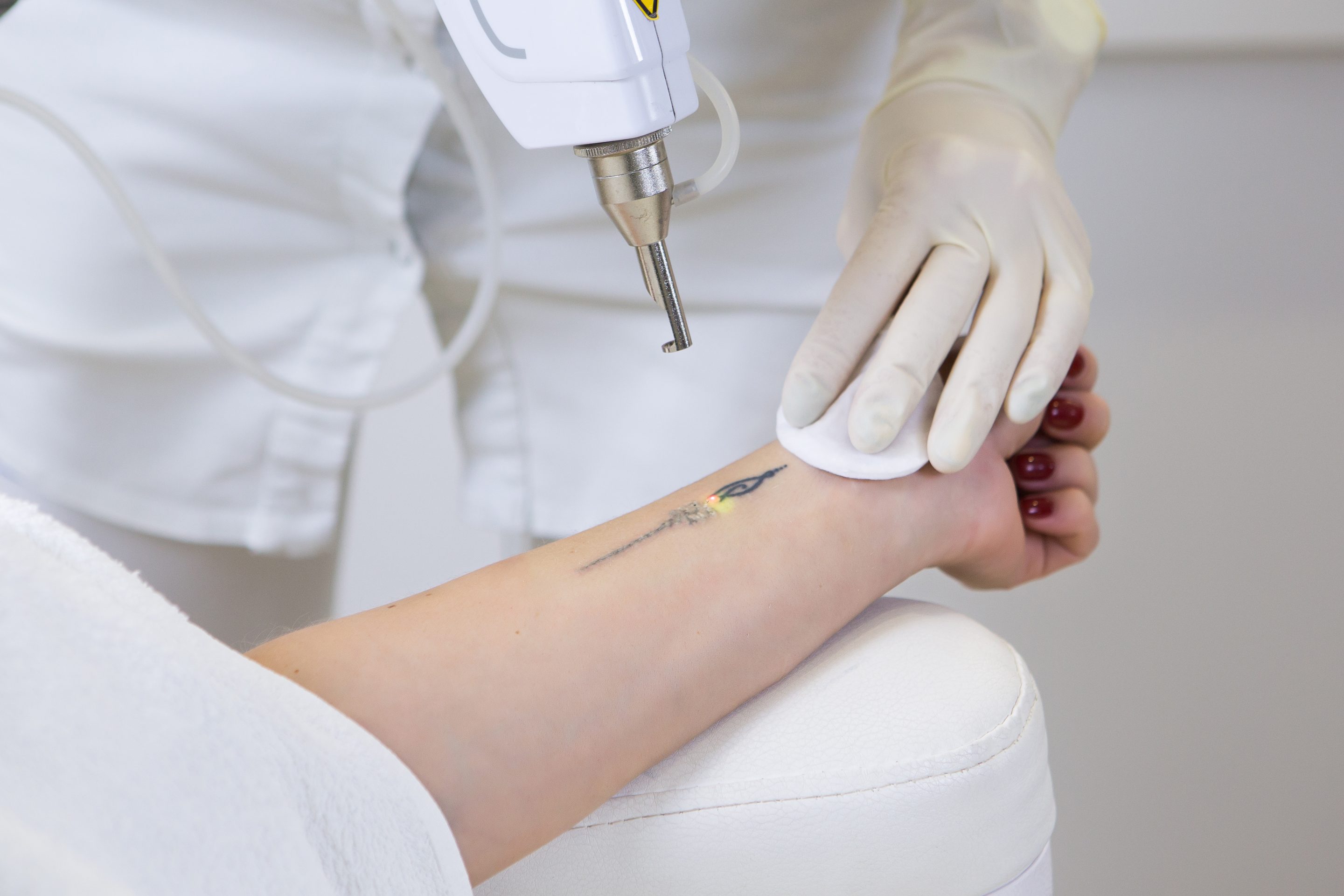 Tattoo removal is a non-invasive and non-surgical procedure to remove unwanted tattoos from your body with the help of laser technology. It is a professional and delicate procedure and should only be performed by an experienced dermatologist.
Tattoo colors that are easy to remove –
Black

Brown

Green

Dark blue
How to Prepare for the Tattoo Removal Treatment?
Here are some tips that you have to follow before your first session of the treatment –
Eat a full meal before your session.

Quit smoking as it slows down the healing process.

Avoid sun exposure.

Keep your area clean and dry.

Do not apply lotions, perfumes, or any cosmetics over the skin.
Pro Tip: Wear loose clothes during sessions.
 Our experts at Chandra Clinic follow a sequence of steps for effective results –
The procedure begins with a consultation and solving all your queries.

The session with begin with cleaning and prepping your skin for the treatment.

Numbing cream will be applied to the desired area.

Laser light will be beamed on the desired area to reduce the appearance of the tattoo.

You might feel a slight burning sensation and pain during the procedure, which will fade away in some time.
There are many benefits of undergoing tattoo removal treatment –
Helps in improving appearance.

Safe procedure.

Get rid of unwanted tattoos.

No or minimal pain.

Zero downtime.
Pro Tip: Strictly follow the advised skincare routine.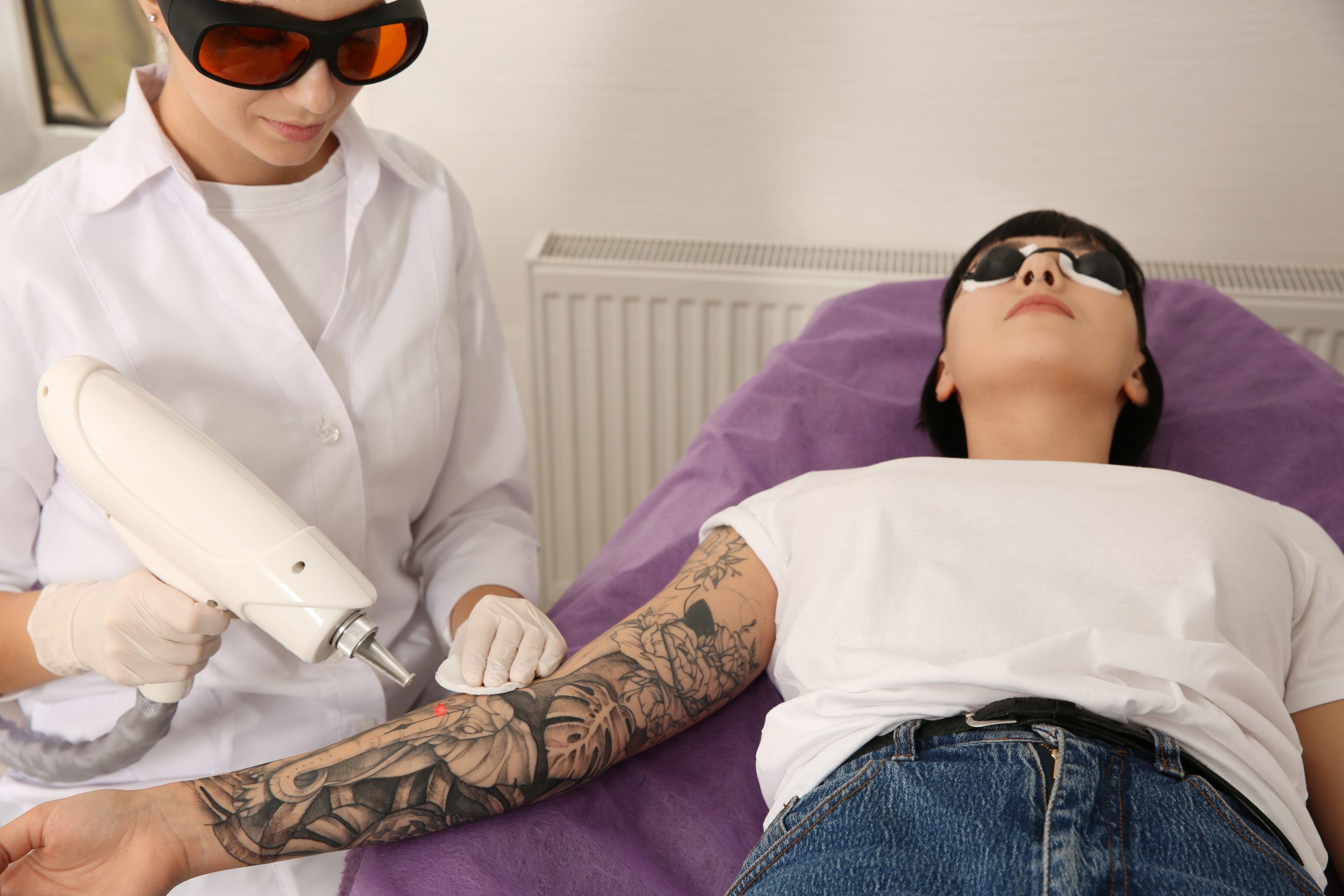 Our dermatologist will discuss the instructions for after care your skin after the treatment. In addition to that, you should follow these simple rules-
After the treatment, you should apply an ice pack to ease the pain.

Apply soothing ointment over the treated area.

Use a bandage to protect the skin.

Do not scrub or scratch the treated area.
The result will depend on factors like –
Size of the tattoo.

Design of the tattoo.

Color and ink used for the tattoo.

The part of the body where the tattoo is being made.
Side effects of the treatment
There are some potential side effects of this treatment like –
Skin discoloration and irritation.

Mild pain or discomfort.

Infections.

Swelling and scarring.
Pro Tip: You should always get tattoo removal treatment from an experienced dermatologist.
Why Choose Us?
We at Chandra Clinic in Delhi have top-notch facilities to fulfill all your needs when it comes to laser treatment. Our head dermatologist Dr. Kapil Chandra has vast experience performing all kinds of laser treatments.
Our highly qualified staff will also ensure you get the best experience while undergoing tattoo removal treatment.
FAQs – Frequently Asked Questions
Is this tattoo removal treatment safe for everyone?
Yes, this tattoo removal treatment is safe for everyone. You need a healthy immune system for this treatment; pregnant or breastfeeding women should avoid this.
Does this tattoo removal treatment is painless?
This treatment is not entirely painless and can cause slight pain and uncomfortableness. The doctor will use a numbing cream to ease the pain.
Is laser tattoo removal treatment permanent?
 This tattoo removal treatment is permanent if the process can remove all the ink.
Can this procedure done in one session?
Removing a tattoo usually requires multiple sessions due to the numerous layers of ink that make up the design. Breaking down each layer takes time; typically, 4 to 5 sessions are necessary to complete removal.
Will this procedure altogether remove the tattoo?
It depends on the tattoo's type, size, and ink. However, the entire tattoo cannot vanish.